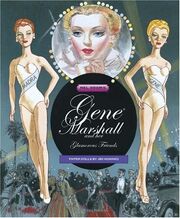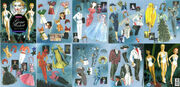 Paper doll book of Gene, Madra, Violet and Trent by Jim Howard.
ISBN: 1-93522-315-1
Released: 2009
Edition: Paperback 16 pages
Author: Jim Howard
Company: Paper Studio Press
Retail: $12.00
Lavishly illustrated in Jim Howard's beautifully artistic style, this paper doll features 5 dolls and 8 pages of stylish outfits based on the popular fashion dolls created by Mel Odom. The beautiful Gene doll is joined by chic villianess Madra Lord, Gene's leading man Trent Osborn, her fashionable best friend Ivy (Vee J.) Jordan, and the sultry Violet Waters.
Ad blocker interference detected!
Wikia is a free-to-use site that makes money from advertising. We have a modified experience for viewers using ad blockers

Wikia is not accessible if you've made further modifications. Remove the custom ad blocker rule(s) and the page will load as expected.