Gentlemen Prefer Blondes
shows
Gene Marshall
at a party as Marilyn Monroe.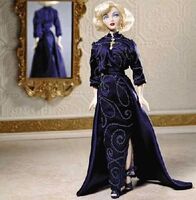 SKU: 38270
Released: 2001
Circa: 1955
Inspiration: Gentleman Prefer Blondes costume by Travilla
Company: Ashton-Drake
Retail: $125.00
Gene doll with blonde chin length hair. Styled with a side part and flipunder in back. Red lips, grey eyeshadow and eyebrows.
Midnight blue spaghetti strap beaded sheath and matching bolero jacket with three quarter length sleeves.
Midnight blue ribbon tie shoes.
"Diamond" rhinestone drop earrings set in "gold."
Description
Edit
When the Monolithic starrs are invited to a gala ball honoring Twentieth Century-Fox, the pick their favorite costumes from their favorite Twentieth Century-Fox films. What style & fashion! And Lorelei Lee is just a trifle naughty! In honor of her favorite film, Gene wears a costume from "Gentlemen Prefer Blondes."
Story Card
Edit
1955.  It was the twentieth anniversary of 20th Century Fox, and they were celebrating with a gigantic gala.  All Hollywood was invited to attend, wearing a costume from any of 20th Century Fox's many successful films to the gala event.
Monolithic arranged to borrow some prints of some of 20th Century Fox's biggest hits so that their roster of stars could pick and choose their favorite 20th Century Fox costumes.  There, in a private screening room on the Monolithic lot, Monolithic's best and brightest huddled in the darkness, costume department personnel close at hand, eager to see which costumes would suit them best.
"Hmmmmmm," thought Gene Marshall, as the rest of the viewers laughed as the beautiful Lorelei Lee ever-so-clumsily-on-purpose spilled her drink on her co-star's suit in Gentlemen Prefer Blondes.  "That's my dress--sexy and smarter than anybody would guess--just like Lorelei!  I could get away with that!  I know what I prefer--thanks ever so!"
And with that, she was off to the hairdresser's to change her hair to a breathless shade of blonde...
Ad blocker interference detected!
Wikia is a free-to-use site that makes money from advertising. We have a modified experience for viewers using ad blockers

Wikia is not accessible if you've made further modifications. Remove the custom ad blocker rule(s) and the page will load as expected.