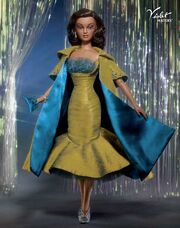 Glissando
shows
Violet Waters
accepting an award.
SKU: 76490
Released: 2004
Edition:
Circa: 1954
Designer: Lynne Day
Company: Ashton-Drake
Retail: $89.00
Violet doll with medium brown hair. Styled with side-part and shoulder-length waves. Maroon lips, purple eyeshadow.
Blue and gold mermaid dinner dress, matching dress-length evening jacket.
Accessories
Edit
Blue clutch, hosiery.
Beaded open toed strap heels.
Beaded dangle earrings, bracelet.
Description
Edit
Violet is about to leave you speechless! Fans are vowed as she accepts honor after honor at the 1954 AdLib awards for jazz recordings, dressed in this knockout iridescent blue and gold cocktail gown, with its mermaid flared skirt and matching, brilliant blue-lined coat! Her silky hair is worn down, framing her lovely face and dangling earrings, and her beaded shoes catch the light as she glides down the aisle to the awards stage again!
Story Card
Edit
1954.  "...and the winner of this year's AdLib Most Popular Artist is..."
The pianist in the jazz combo playing at the AdLib Jazz Awards ran his finger up the keyboard, playing an anticipatory glissando as the presenter took a breath as he opened the envelope.
Violet Waters's heart bumped a little as the final note of the glissando hung in the breathless air.  "That's just what my life's been like," she thought to herself.  "Just like that piano player's glissando.  Going higher and higher and getting better and better...but there's no keyboard in the world long enough to handle my 'life' glissando!"
Indeed, Violet's life had been a wonderful ride so far.  From that little girl in the Midwest with a dream to her success here and abroad to her movie contract with Monolithic Studios to her successful recording and club career...of course, there had been a few sour notes along the way, but for the most part, everything was in a major key and getting better all the time.
But now the envelope was open and the presenter stood squinting at the card in his hand.  "Why didn't I bring my glasses?  But I don't even know why I need to look.  AdLib's Most Popular Artist for 1954--or almost any year in my opinion--is Miss Violet Waters!"
And Violet took a deep breath, wiped away a tear, and stepped to the podium--after giving the piano man a wink as he played another glissando, ending on a beautiful, triumphant chord.
Ad blocker interference detected!
Wikia is a free-to-use site that makes money from advertising. We have a modified experience for viewers using ad blockers

Wikia is not accessible if you've made further modifications. Remove the custom ad blocker rule(s) and the page will load as expected.