Glowing Reviews
is a
Violet Waters
doll.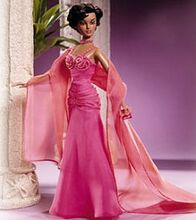 SKU: 38400
Released: 2003
Edition: 2003
Circa: 1956
Designer:
Company: Ashton-Drake
Retail: $125
Violet doll with ??? hair. Styled with ??? in front, ??? in back. ??? lips, ??? eyeshadow.
Fuschia chiffon evening gown with shirred hipline, beaded bust and spaghetti straps.
Accessories
Edit
Two-tone chiffon wrap and beaded clitch.
Beaded pink shoes
Beaded double strand choker necklace and matching drop earrings.
Description
Edit
Violet's performance gets rave reviews as does the gown she wears to the opening night gathering! Violet is dressed in a vibrant pink evening gown witha trumpet style skirt and a beaded bodiece, circa 1956. around her shoulders is an airy two-tone shaw and in her hand, a two-tone clutch to match. Also includes neclace and earrings, shoes and hosiery.
Story Card
Edit
1956. Every time the door to the private room in the back of the restaurant opened, a hush fell over the partyers, who turned to the newcomer with breathless anticipation. Then there was the audible groan that rose when the group realized that it still wasn't the runner with the first editions of the morning press.
Violet Waters sat in a corner, blocked in by well-wishers. She had made her Broadway revue debut earlier in the evening (actually, last night, since by now the wee small hours of the morning had made their debut!) and she was at the opening night party with the rest of the cast and crew, edgily awaiting the first reviews of their revue.
Another newcomer; another groan. One of the producers was sitting at Violet's table, and he placed a comforting hand on top of Violet's tapping fingers. "Don't worry," he said. "I've been producing for, well—let's just say it's not true that I held the hammer when they built the first stage, but it was close! And I've never seen an opening night performance to rival yours. There's stardust in the air tonight, my dear!"
Just then the door opened—and this time there was no groan. The reviews had arrived!
In seconds, Violet was on her feet. Then, without thinking, she was standing on her chair as copies of her glowing reviews were passed to her above the heads of the crowd...
...and the stardust never settled again.
Ad blocker interference detected!
Wikia is a free-to-use site that makes money from advertising. We have a modified experience for viewers using ad blockers

Wikia is not accessible if you've made further modifications. Remove the custom ad blocker rule(s) and the page will load as expected.