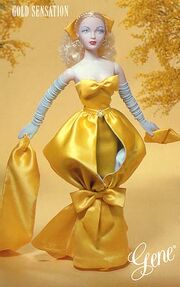 Gold Sensation
was an outfit worn by
Gene Marshall
to present a
Golden Star
.  The name was changed to
My Favorite Bow
when Mattel claimed copyright infringement.
SKU: 94686
Released: 1998
Retired: 2000
Circa: 1957
Designer: Tim Kennedy
Company: Ashton Drake
Price: $39.95
Story Card
Edit
"Ladies and gentlemen, now comes the moment you have all been waiting for--the presentation of the Golden Star Award for Best Picture of 1957.  To present this award, I have the very great honor to welcome one of the brightest stars in Hollywood.  She has graced this stage often as the recipient of this prestigious award--including yet another Golden Star tonight for Best Actress.  Her name on the marquee is guaranteed box office magic.  Her talent is legendary, her beauty sublime, and her dedication to the art of acting an inspiration.  Ladies and gentlemen, here to present the award tonight for Best Picture is the unforgettable Miss Gene Marshall!"
The Golden Star Awards Show that night was a success.  Gossip columnists and fashion critics alike agreed that Gene's fabulous gold satin bubble gown was the fashion statement of the awards.  But it was later, at a private party at the famous Green Parrot Restaurant, that Gene's gown made the most indelible impression.  As Gene and her escort were checking their wraps, she stunned the crowd by gracefully sweeping off her bubble skirt, revealing an alluring strapless gown that flowed like molten gold over her curves, pooling into a mermaid train.  An "ooh" of delight swept the crowd, suddenly punctuated by a loud shattering of expensive china and crystal!  Two waiters, their eyes riveted to Gene's captivating curves, had run headlong into each other!  Gene and her date moved to their table as flashbulbs popped and journalists raced to the phones to break the news of Gene's "gold sensation"!