This folding backdrop, recreating a scene from Gene's film Green Eyes, provides the perfect place to pose Gene and rival Madra.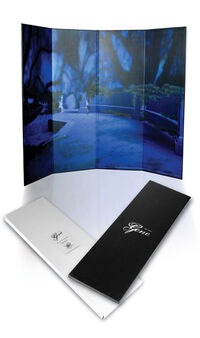 SKU: 92020BACK
Released: 2007
Edition: 500 W Club exclusive
Circa:
Inspiration: n/a
Company: Integrity Toys
Retail: $19.99
Description
Edit
This is the first Gene backdrop from JWU LLC. Generated directly from the digital painting created by for the photo shoot of the Spring 2007 Gene Marshall collection, this backdrop depicts the famous scene in which Gene made her award-winning performance, bathed by the caressing glow of the moon above. This lovely backdrop will accent your photography and display concepts for Gene and her friends.
The backdrops are 18.5" tall by 24.5" wide and are mounted on high-grade board in black embossed on the backside with the Gene logo in metallic silver. They also fold flat for easy storage.
Script / Star File
Edit
No story card was made to accompany this accessory.
Ad blocker interference detected!
Wikia is a free-to-use site that makes money from advertising. We have a modified experience for viewers using ad blockers

Wikia is not accessible if you've made further modifications. Remove the custom ad blocker rule(s) and the page will load as expected.