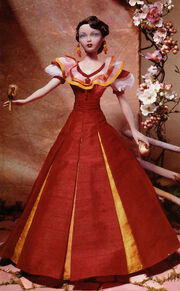 Heart's Afire
is an outfit worn by
Gene Marshall
in the film
Shooting Star
.
SKU: 76404
Released: 2000
Edition: 5000
Circa: 1952
Designer: Lynne Day
Company: Ashton Drake
Price: $44.95
Story Card
Edit
The western Shooting Star ended with a bang!
In the film, Gene played a ranch owner who bests a conniving evil land baron by winning a big shooting match and paying her mortgage with the cash prize.  In the process, she also saved the town by keeping open the route to the river.  So the stage was set for a celebration.
And celebrate they did.  The party was in full swing when the guest of honor arrived--and a hush came over the crowd.  For ranch owner Gene had changed from her usual "get-down-to-work" dungarees into a muy caliente red dress, full of frills and ruffles.  With its flashes of orange and yellow around the skirt, she looked like a bright flame as she shook the maracas and twirled from one ranch hand to another in a triumphant dance--until she finally twirled into the arms of the ranch foreman, Tom.
While Tom had stood by in quiet support as Gene had prepared for the shooting match, he had remained aloof in matters of the heart.  but now, he held her tenderly and looked lovingly into her eyes.
"Seeing you in that dress, I gotta confess--my heart's afire," he said gruffly.  "I know I"m just a foreman--but would you consider bein' my gal?"
"I thought you'd never ask, Tom," beamed Gene, as she held him close.  "Now I really HAVE won the match!"
Ad blocker interference detected!
Wikia is a free-to-use site that makes money from advertising. We have a modified experience for viewers using ad blockers

Wikia is not accessible if you've made further modifications. Remove the custom ad blocker rule(s) and the page will load as expected.