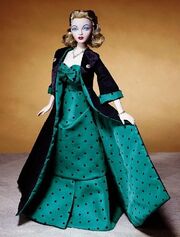 Heart of Hollywood
is a NALED exclusive
Gene
doll.
SKU: 96376
Released: 2000
Edition: 3500
Circa: 1950
Designer: Vince Nowell
Company: Ashton Drake
Price: $99.95
Story Card
Edit
In addition to being one of the busiest stars in Hollywood, Gene Marshall was known as one of the kindest and most charitable. Her diligent work for a number of causes was constantly being honored by grateful organizations. But for the most part, Gene preferred to keep tales of her generosity low-key, private and personal.
But when it came to her favorite children's cause, she just couldn't keep quiet. Her feelings for the deserving youngsters overflowed from her open heart, and she was always more than happy to talk with anyone and everyone about her mission.
And so Gene decided to call on many of her Hollywood friends, in front of and behind the camera, to stage her own glorious fund raiser. The event was held in a ballroom in the heart of Hollywood. With decorations by some of Hollywood's greatest set designers, catering by Hollywood's most prestigious restauranteurs—and entertainment provided by Hollywood's brightest stars (including Miss Marshall herself), the evening was a huge success.
As Gene left the ball, the Members of the Press crowded around her. Ever gracious, Gene not only poured out her heart in an impassioned plea for her cause—she promised that this fund raiser, closer to all the hearts of Hollywood, was going to be an annual event.
And she meant it from the bottom of her heart.
Ad blocker interference detected!
Wikia is a free-to-use site that makes money from advertising. We have a modified experience for viewers using ad blockers

Wikia is not accessible if you've made further modifications. Remove the custom ad blocker rule(s) and the page will load as expected.