Heavenly
depicts
Gene Marshall
in an elegant turquoise and beige evening gown.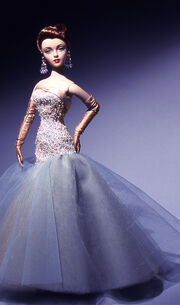 SKU: 92001
Released: 2006
Edition: 500
Circa:
Designer:
Company: Integrity Toys
Retail:
Gene Marshall doll with dark auburn hair. Styled in a pompadour. Red lips, light eyeshadow, (unknown) manicure and pedicure.
Strapless evening dress, with poufy skirt.
Accessories
Edit
Beige silk opera gloves.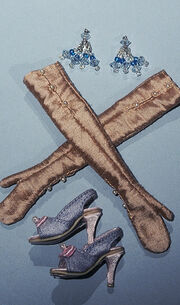 Open toe satin beaded shoes.
Crystal and turquoise earrings, pendant necklace and may include a beaded bracelet.
Description
Edit
"Heavenly" is a confection of evening wear, sculpted in a palette of subtle cloud-tones, enhanced with sumptuous fabrics and surface treatment. The skirt of a half dozen layers of multi-colored tulle, spills from an asymmetrically cut bodice of pale turquoise, covered in beige lace and beaded in soft jewel tones. A pleated bandeau of creamy beige satin finishes the neckline and matches the long, pearl-buttoned, structured silk gloves.
With this gown, Gene's deep auburn hair is twisted into the sleekest of pompadours, exposing her neck to the dazzling facets of crystal and turquoise pendant earrings. Her multi-toned, open-toed shoes are meticulously covered in satin and trimmed with beaded, fabric bows. There's not a color in this entire ensemble you haven't seen in the sky, truly "Heavenly".
Ad blocker interference detected!
Wikia is a free-to-use site that makes money from advertising. We have a modified experience for viewers using ad blockers

Wikia is not accessible if you've made further modifications. Remove the custom ad blocker rule(s) and the page will load as expected.