Hi-Fi is an outfit of Gene Marshall's.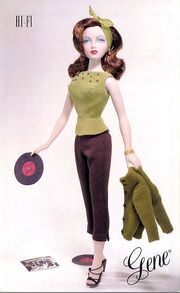 SKU: 94669
Released: 1998
Retired: 2000
Circa: 1954
Designer: Doug James
Company: Ashton Drake
Price: $34.95
Story Card
Edit
It's a rainy Sunday afternoon in September, and Gene is enjoying every moment of these few precious weeks at home between films.  She is cozily curled up on the soft rug before the coffee table, going through the neat stacks of correspondence, letters from fans, and script proposals awaiting her attention.  Delicious scents drift from the kitchen and fill the house as Gene's favorite homemade stew simmers in the slow cooker.  Her dogs, Dashiell and Dottie, are happily drowsing before the fireplace.  And best of all, "Blue Evening", that moody, bluesy hit record by Gene's dear friend Ina Stafford is on the hi-fi, filling the room with Ina's rich, velvety voice.
Gene finds herself humming along to the dreamy melody as she signs her name in a personal letter to a fan.  As she rises to go to the desk for a stamp, she starts to sway to the music, harmonizing a soprano line to Ina's sultry alto.  Her arms rise to dance with an invisible beau as a smile curves her lips and her eyes become dreamy.
The song ends and suddenly she hears applause from outside the window--it's her dear friend and sometimes leading man, dropping by for a visit and enjoying her impromptu dance.  Laughing through her blushes, she welcomes him in.  He walks straight to the hi-fi, starts the song again, and takes her in his arms--ready for a dance with Gene!