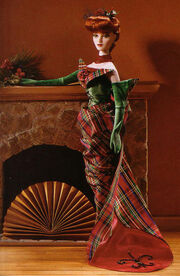 Highland Fling
is an outfit worn by
Madra Lord
.
SKU: 92267
Released: 2000
Edition: 3500
Circa: 1952
Designer: Tim Kennedy
Company: Ashton Drake
Price: $59.95
Story Card
Edit
1952.  The gossip columns were buzzing.  "We know Madra Lord is full of the devil, but what we DON'T know is--where the devil IS Madra Lord!?!?!"
Here it was, the holidays, no less.  A time when Hollywood stars lounged for publicity shots in front of decorated trees and roaring fireplaces (even in sunny Southern California), wishing their fans Season's Greetings and Don't Miss My Next Picture.  But Madra was nowhere to be found.  Even the girls at Madra's answering service had been told to say that "Miss Lord is 'incommunicado' until after New Year's."  No exceptions.
"I don't care if she's 'incommunicado' or in East McKeesport--find her!" roared Reuben Lilienthal.  "We've got movies to make!"  The publicity boys had scoured the country looking for Madra, but no one turned up a clue.  R.L. was ready to hire a private detective when a package arrived on his desk, postmarked "Edinburgh".  Quickly, he tore off the brown paper to reveal a bright plaid gift box.
R.L. lifted the lid.  Inside was a fifth of fine single malt scotch tied with a plaid bow--and attached to the bow was an envelope addressed in Madra's bold hand.  Picking up his pearl-handled letter opener, he slit open the envelope.  Out fell a photo of Madra, dressed in festive red and green plaid, standing in front of a baronial stone fireplace.  And inscribed on the back was a note: "Dearest!  Have taken the low road to the Highlands with Lord MacDougall--and am stocking up on mistletoe for the holidays.  Ho, ho, ho!  Have a Happy!  M."
And with that, R.L. uncorked the scotch.
Ad blocker interference detected!
Wikia is a free-to-use site that makes money from advertising. We have a modified experience for viewers using ad blockers

Wikia is not accessible if you've made further modifications. Remove the custom ad blocker rule(s) and the page will load as expected.