Holiday Magic was the 1996 Retailer's Exclusive, worn by Gene for a holiday television special.
SKU: 94392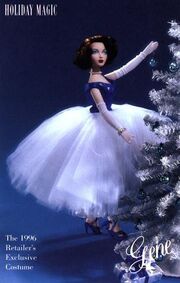 Released: 1996
Edition: 2000
Circa: 1956
Designer: Tim Kennedy
Company: Ashton Drake
Price: $44.95
Story Card
Edit
Although you're a movie star, it's the new medium of television that gives you the chance to entertain your fans as they relax in the comfort of their own homes. When you appear on a TV holiday special in the mid 1950s, you have the thrill of performing live before an audience of millions!
Gene has looked forward to her appearance on the Holiday Magic show, broadcast from New York City on Christmas Eve, 1956. It gives her an opportunity to be home for the holidays with her family. And when she performs a wonderful song and dance routine, she surprises her movie fans by displaying talents she's never fully revealed in her films. The applause of the studio audience--with Gene's family cheering from the front row--proves, once and for all, that Gene won't have to have her singing roles dubbed anymore.