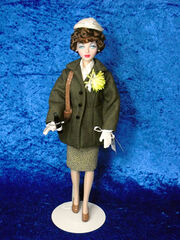 Holiday Shopper
shows
Gene Marshall
Christmas shopping.
SKU: 93655
Released: 2002
Edition: 3000
Circa: 1951
Designer:
Company: Ashton Drake
Price: $89.95
Story Card
Edit
"All right--now, what's left on my list..."
Gene was back in Cos Cob, finishing up her holiday shopping.  She had a warm feeling, stopping in at all the stores she remembered from her youth.  She giggled as she stepped into the five-and-dime, filling her basket with all the gewgaws and gimcracks that tantalized her as a girl.  Everyone's Christmas stockings would be bulging this year!
As she stepped into the elevator at Brigg's Department Store, she recognized the operator, calling him by name as he pulled the lever and stopped on her floor.  From the window in ladies' shoes, she looked out over the town, blanketed in snow with little patches of green where shivering men sold trees and wreaths.
But now it was time for a break.  Down the elevator and across the street to the drugstore, where she'd spent many a happy hour at the soda fountain with a Coca-Cola, bent over a fan magazine, learning all she could about The Movies.
The bell on the door tinkled as she walked inside.  Behind the counter was Old Mister Dilby.  "Why, Katie Marshall!"  He smiled.  "Haven't seen you in a month of Sundays.  How are you?"
"Just fine, Mr Dilby--but it's time for a break."
"Well, you just sit down for a spell.  Are you still my Coca-Cola girl?"
"Same as ever!" Gene laughed.  "And what do you know--a carton of Coca-Cola is all that's left on my list..."
Ad blocker interference detected!
Wikia is a free-to-use site that makes money from advertising. We have a modified experience for viewers using ad blockers

Wikia is not accessible if you've made further modifications. Remove the custom ad blocker rule(s) and the page will load as expected.