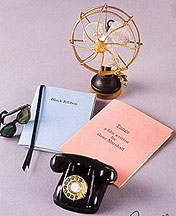 Five piece accessory set includes table fan, phone, two movie scripts and sunglasses.
SKU:93548
Released: 1997
Designer: Joan Green
Company: Ashton Drake
Price: 34.95
Story Card
Edit
What's a Hollywood movie star to do when the temperature soars to 99° and the dry California breeze seems to just blow the heat around? Why, lounge in cool comfort by the pool, of course.
Just because she's relaxing doesn't mean Gene isn't working. A stack of script proposals rest beside her sunning chair. It's a lot of reading to catch up on, but as her agent says, her next big hit could be in that pile.
Putting on her dark sunglasses, Gene switches on the table fan and begins to read. Sunshine sparkles on the pool water, the bees hum in the flower gardens, and from the house a radio plays a boogie-woogie tune.
Gene is careful to sit in the shade every hour. When Gene first moved to California, her father, Dr. Marshall, warned her to be wary of the strong sunshine to keep her fair, rose-and-cream complexion supple, smooth, and radiant.
By noon, two scripts have riveted Gene's attention...Tango and The Black Ribbon. There's something about these sensitive stories that touch the very essence of romance. Gene reaches for the telephone to call her agent. If her intuition is right, soon the hottest thing in Hollywood won't be the weather...it'll be Tango and The Black Ribbon.
Ad blocker interference detected!
Wikia is a free-to-use site that makes money from advertising. We have a modified experience for viewers using ad blockers

Wikia is not accessible if you've made further modifications. Remove the custom ad blocker rule(s) and the page will load as expected.