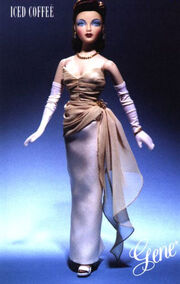 Iced Coffee
depicts
Gene Marshall
in the film
Voodoo Blues
.
SKU: 94396
Released: 1997
Retired: 1999
Circa: 1946
Designer: Laura Meisner
Company: Ashton Drake
Price: $79.95
Story Card
Edit
Surely magic was in the air during the making of Voodoo Blues, one of the most beloved film classics of the 1940s.
The sound stages of Monolithic Studios were transformed into the sultry, sensuous city of New Orleans.  Gene was never so bewitching than as the star chanteuse of a blues nightclub.  Deeply in love with the handsome heir of a wealthy plantation family, Gene pours out her tale of unrequited love to the backstage assistant, a kindly but mysterious old man.  He offers to cast a voodoo spell on her beloved.  "Tonight, when you sing," the eerie old man says, "he will be unable to resist you."  Believing in his hypnotic words, Gene steps on stage.
In the misty spotlight she glows like a creamy pearl, wearing a café-au-lait chiffon gown that pours over her slim curves in a liquid column of ivory satin.  When she sings the first number--"My baby makes me nervous like...iced coffee"--she catches her lover's eyes and holds him spellbound.  She purrs into the mic in a sensuous, throaty alto as though whispering in his ear.  Her gloved fingers lightly cup the mic during the song's heartrending refrain, the diamond jewels trembling with the passion of her singing.
Her love is enraptured and vows to marry her.  Though his family fights their union, Gene wins them over by the movie's end.  The old man was a fraud, but his wise trick gave Gene confidence in her own magic...the most irresistible of all...the timeless magic of a woman in love.