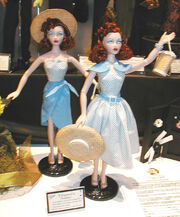 It Happened in Monterey
is an outfit worn by
Gene Marshall
at the beach.
SKU: 76730
Released: 2002
Edition: 2002
Circa: 1954
Designer: Wayne Nilson
Company: Ashton Drake
Price:
Story Card
Edit
The summer of 1954, Gene made a decision to treat herself to a quiet weekend away from the glare of Hollywood before she started filming Love for Sail.  And that decision took her straight to Monterey Bay...
No parties.  No interviews.  Just time for her!  She packed very light: a few essentials and an all-purpose outfit for sun and sand.
That first day was gorgeous.  No one approached her as she walked to her beach chair by the sea, out of respect for her privacy--or because she was unrecognizable under her floppy hat.  That is, until she removed her hat and her sarong and stretched out and...
"Katie?"  A familiar voice came from the chair to her right.  Swiftly the years melted away and she was getting off the train in California.  She had been on the train with Gene, all the way from New York: the established Monolithic contract player giving counsel to the green kid from Cos Cob, eager to take Hollywood by storm.
"Ivy?  Ivy Jordan!!  What a pleasant surprise!  I'd forgotten you had a place in Carmel..."
"Just me and Charlie and the girls--all five!  I brought them all down to the beach to play--but we'd sure love to take you to lunch!"
"I'd adore it!" laughed Gene, as she pulled her wrap-around skirt from her catchall.  "But my treat!!  So what have you been up to since we finished Rain Song..."
Ad blocker interference detected!
Wikia is a free-to-use site that makes money from advertising. We have a modified experience for viewers using ad blockers

Wikia is not accessible if you've made further modifications. Remove the custom ad blocker rule(s) and the page will load as expected.