Jazz Note
is an outfit worn by
Gene Marshall
to see
Violet Waters
at a jazz club.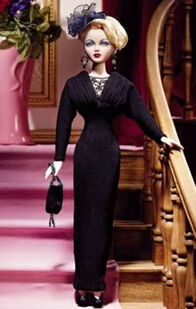 SKU: 76278
Released: 2000
Edition: 5000
Circa: 1943
Designer: Dolly Cipolla
Inspiration: James Galanos
Company: Ashton Drake
Retail: $44.95
Black jersey backless dress with gathered sleeves and blue lining reverse back bow, over a sheer embroidered body suit.
Accessories
Edit
Black bow hat with black and blue layered tulle veil. Black satin beaded and tasseled reticule handbag.
Black "suede" slingbacks with beaded vamp.
Black bead dangle earrings with crystal center.
Story Card
Edit
Gene loves jazz, as all her fans know.  So she was thrilled to read in the paper that one of her favorite up-and-coming vocalists, Violet Waters, was appearing at a small club in Beverly Hills.
Now was the perfect opportunity to introduce some of her influential friends to the style of this hot new talent.  Without missing a beat, Gene was on the phone--and didn't take a rest until she had arranged to meet a table full of friends at the club where Violet Waters was singing.
Reservations were made and the night arrived.  Gene walked into the smoky club in a steamy black dress, as smooth as jazz itself--provocative and sleek in its style.  A murmur went though the small, intimate club.  The crowd knew they were in for a treat--because Gene's taste in music was known to be impeccable.
The lights dimmed; the spotlight flickered on; and Violet Waters stepped through the curtains onto the tiny stage.  Hushed, the crowd (most especially Gene) hung on Violet's every note.  At the end of her set, the applause was tumultuous.
All but from Gene--for she was busily writing a note on the back of a napkin.  "Pure jazz heaven," it read.  "Will you be able to join us at our table between shows?  I think there might be some studio people here who would like to meet you.  Hugs, Gene Marshall..."
Ad blocker interference detected!
Wikia is a free-to-use site that makes money from advertising. We have a modified experience for viewers using ad blockers

Wikia is not accessible if you've made further modifications. Remove the custom ad blocker rule(s) and the page will load as expected.