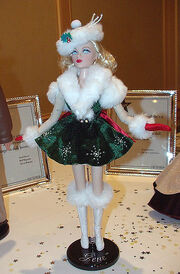 Gene fashion from the 2005 Decade of Dreams convention.
SKU: 03-00023-131
Edition:200
Released: 2005
Designer: George Sarofeen
Company: Ashton Drake
Price:
Story Card
Edit
- - -The party following the successful premier of Gene Marshall's newest picture, 1951's "I'll Take Manhattan", had all Manhatten talking. Everyone who was anyone was there, including New York mayor Vincent R. Impellitteri!           - - -Suddenly, there she was at Radio City Music Hall stage door. She gingerly pushed it popen,and said to the grizzled doorman, "Vincent sent me."
     With a wink he shut the door behind her, took her to a dressing room and handed her a box. "Put these on and then follow me..."
      And that night, during the Christmas Spectacular finale, thirty-SEVEN Rockettes high-kicked teir way into the audience's hearts!     (Abreviated)
Ad blocker interference detected!
Wikia is a free-to-use site that makes money from advertising. We have a modified experience for viewers using ad blockers

Wikia is not accessible if you've made further modifications. Remove the custom ad blocker rule(s) and the page will load as expected.