Kid Valentine is an outfit worn by Trent Osborn in a film.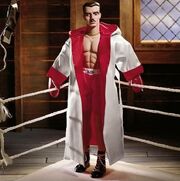 SKU: 38265
Released: 2001
Designer: Gene Team
Company: Ashton Drake
Price: $59.95
Story Card
Edit
I've been boxing ever since I was big enough to make a fist. Back before there was even such a thing as the Golden Gloves. Back when you went to the local gymnasium and volunteered to be a sparring partner or when Father Pat put together a match at the Parish to keep fighting off the streets and under the eye of a watchful and fair adult.
So when my film Kid Valentine went into production, I knew all the right moves. It just took a little training to get back into shape.
What a great script! It all revolved around college professor Mr. Heart (a bookish type played by yours truly) who hears of a student trapped in a shady boxing syndicate. The student, trying to earn enough to get through school, is just about to fall into the clutches of the bad guys (not to mention the boss's sultry wife, played by Madra Lord), when who should come to his rescue? Bookish Professor Me, who is really a professional boxer, once known in the ring as Kid Valentine.
Ordering his student into hiding, Professor Heart once again dons the fighting togs of Kid Valentine and faces up to the syndicate (along with his compatriots from the college's law school), winning the bout and his students' respect at the same time. And so Kid Valentine hangs up his gloves again—at least until he's needed to fight for justice one more time.
They just don't make 'em like that anymore...
Ad blocker interference detected!
Wikia is a free-to-use site that makes money from advertising. We have a modified experience for viewers using ad blockers

Wikia is not accessible if you've made further modifications. Remove the custom ad blocker rule(s) and the page will load as expected.