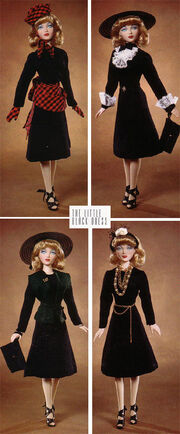 Little Black Dress
is an outfit worn by
Gene Marshall
.
SKU: 93328
Released: 2000
Edition: 5000
Circa: 1943
Designer: Tim Kennedy
Company: Ashton Drake
Price: $49.95
Story Card
Edit
In the Forties, with rationing prevalent, it was difficult to get gasoline, meat, butter—and clothing! What was a girl to do?
Use her imagination, as Gene demonstrated with her Little Black Dress, a fashion canvas that, with the right accessories, turned into a masterpiece.
With the flick of a wrist band and the toss of a hat, the Little Black Dress could become a fashionable outfit for going out and about. With a little lace and ribbon, the Little Black Dress became a dainty and demure dress, suitable for the most proper occasion. A vest and jewelry lent a sportive look to the ensemble. And simple elegance was the order of the evening when gold accents adorned the Little Black Dress.
So many outfits from such a basic concept. All it took was a little imagination, a little ingenuity—and a good fashion sense—to make the most out of the least. Gene knew the value of the Little Black Dress and its easy-to-change appearance—and that's why it became her outfit of choice on many a Bond Tour.
Use your imagination, because the possibilities for fashionalbe works of art are endless...
Ad blocker interference detected!
Wikia is a free-to-use site that makes money from advertising. We have a modified experience for viewers using ad blockers

Wikia is not accessible if you've made further modifications. Remove the custom ad blocker rule(s) and the page will load as expected.