Lover in Disguise shows Trent Osborn in the film of the same name.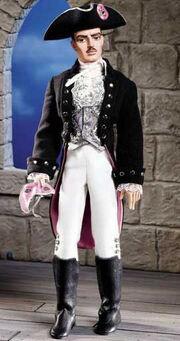 SKU: 38257
Released: 2001
Edition: 5000
Circa: 1946
Designer: Lynne Day
Company: Ashton Drake
Price: $125.00
Story Card
Edit
I am such a romantic at heart.
I've always been a sucker for a happy ending—just like the one in that movie I made with Gene Marshall and Madra Lord called Lover in Disguise. I played the title role: a handsome young (the press kit said "mature"—but that must have been a typographical error) playboy engaged to an attractive but clutching older woman who owns a fancy dress shop. Working at the shop is a sweet young thing who catches my fancy—but since I'm under the spell of the Other Woman, I can't express my true admiration for her.
Cut to the finale of the film. It's time for the Annual Charity Masquerade Ball. The playboy is the center of attention, dressed as a dashing French bon vivant, surrounded by lovely ladies—and under the watchful eye of his possessive lover. Suddenly, he senses something wonderful, and, turning, sees a vision at the top of the stairs. This Pierrette fairly floats down the steps and into his arms. His lover, costumed as a shady lady, stands with her eyes wide and mouth agape.
As the playboy whirls his mysterious Pierrette around the ballroom, he asks, "Where have you been all my life?"
"Right in front of your eyes," she counters. And he removes her mask, knowing all along that she is the girl from the shop. And they dance and dance and dance...
As I said, I am such a romantic at heart. Maybe that accounts for my three marriages...
Ad blocker interference detected!
Wikia is a free-to-use site that makes money from advertising. We have a modified experience for viewers using ad blockers

Wikia is not accessible if you've made further modifications. Remove the custom ad blocker rule(s) and the page will load as expected.