Lucky Stripe
shows
Gene Marshall
taking a spontaneous vacation.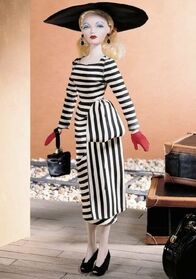 SKU: 93529
Released: 1999
Circa: 1949
Designer: Tim Kennedy
Inspiration: Lucien Lelong
Company: Ashton Drake
Retail: $79.95
Gene doll with blonde hair pulled back into braid-wrapped ponytail. Red lipstick, grey eyedshadow and eyebrows.
Black and taupe striped slim dress with attached side sash.
Accessories
Edit
Red gloves, black barrel purse, black satin oblong portrait hat.
Black "velvet open-toe slingbacks.
Black "onyx" bead dangle earrings.
Description
Edit
Lucky Stripe is a smartly-tailored afternoon ensemble, circa 1949. The square-necked dress is horizontally striped in black and taupe with long sleeves and a narrow knee-length skirt. To enhance the slim line, Gene's skirt is asymmetrically draped onto one hip with a falling panel of vertical stripes. A large, uniquely-styled black satin hat matches the black satin drum-shaped purse, with a golden bead closure and golden detail on the handle. Short red gloves bring a flash of color. Outfit includes "onyx" teardrop earrings; hose; and black sling-back shoes. Gene's long blonde hair is swept back and gathered with a braided knot.
Story Card
Edit
Bird of Paradise has wrapped for a long weekend.  And Gene has decided, quite on the spur of the moment, to pamper herself with some time away from the glare of the studio lights.
Without a plan in her head, she hops out of bed and throws some clothes into her valise.  Then she puts on her "lucky" outfit and lets the chips fall where they may.
First, a quick call to her agent.  What luck!  She's been offered the lead in Monaco.  That's the way to start the weekend!
At the train station the porter takes her valise.  "Where you headin', Miss Marshall?" he asks.  She leaves it up to him.  "Well, Palm Springs is awfully pretty this time of year..."
At the ticket window, the clerk says, "Miss Marshall, you're in luck--the train for Palm Springs leaves in ten minutes."  Then she adds, "Plus there's a private compartment available!"
All the way to Palm Springs, the train wheels seem to call out, "You're-in-luck-you're-in-luck-you're-in-luck-you're-in-luck..."
Gene closes her eyes and points in her tour book for a hotel.
Things are bustling at the hotel.  "All our rooms are booked, Miss Marshall," says the desk clerk.  "However, as luck would have it, we do have a small guest house on the outskirts of the grounds available..."
How lucky can one girl get?