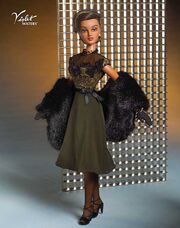 Lunch at the Green Parrot
shows
Violet Waters
at an interview.
SKU:
Released: 2005
Edition:
Circa: 1946
Designer: José Ferrand
Company: Ashton Drake
Price:
Story Card
Edit
The telegram reached her on the road...
"DARLING--STOP--GLAD JAZZ TOUR IS SUCCESS--STOP--CAN WE MEET FOR INTERVIEW AT GREEN PARROT WHEN YOU RETURN TO TALK ABOUT NEW RECORD--STOP--YOUR VERY OWN CORA HARPER"
Violet Waters sat in stunned disbelief!  Cora Harper, the hostess of Non-Stop Hollywood and its frequent broadcasts live from the Green Parrot restaurant, was just about the most important thing a young performer could hope to have happen to them!  If you had Cora on your side, everything was smooth sailing.
On the day Violet returned to California, she phoned Cora Harper's office.  Cora herself answered the phone.
"Oh!  Miss Harper!  This is Violet Waters..."
"Oh, darling, you didn't have to tell me--I'd know those dulcet tones anywhere!  Now, when can we have our little private-for-a-few-million-people chat...?"
The date was set, the studio publicity department and the record company notified--and Violet began agonizing over what to wear.  She stood in front of the mirror holding up dress after dress--and then burst into laughter!  "Here I am, worrying about what to wear," she thought, "and I'm going to be on radio where nobody sees me anyway!"
However, she settled on one of her loveliest ensembles--and was thrilled when the first words from Cora's lips were, "Ladies and gentlemen, I wish you could see how LOVELY Violet looks today for our lunch at the Green Parrot..."
Ad blocker interference detected!
Wikia is a free-to-use site that makes money from advertising. We have a modified experience for viewers using ad blockers

Wikia is not accessible if you've made further modifications. Remove the custom ad blocker rule(s) and the page will load as expected.