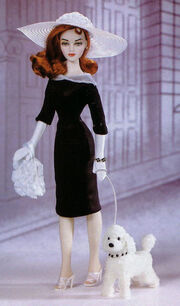 Mad About Mitzi
is an outfit worn by
Madra Lord
in
the film of the same name
.
SKU: 38236
Released: 2001
Circa: 1955
Designer: Vince Nowell
Company: Ashton Drake
Price: $59.95
Story Card
Edit
Benny was elated.  "Madra, they want you for Mad About Mitzi.  R.L. told me HIMSELF he couldn't think of anyone else he'd rather see working on this flick.  As your agent, I couldn't be more pleased."
On the other end of the wire, Madra smiled.  "How sweet.  Reuben's taste is, I'm sure, as usual, impeccable."
She signed the contract without a glance, and at the first read-through, she headed for the chair marked "Mitzi"--and discovered a little poodle sitting there.
"Would someone PLEASE remove this flea-ridden little shedding machine from my chair?" Madra barked.
"But Miss Lord," quavered the assistant director.  "That IS Mitzi--the best dog performer in the business.  She's the star and you're playing her owner, a dizzy society dame who's the only one that Mitzi talks to."
"Talks to...ah-hah," Madra replied, not bothering to close her mouth after she said it.  Madra turned to the pampered pup.  "Mitzi, it's a pleasure," she said, voice dripping with sarcasm.  "I just KNOW we'll become BEST girlfriends."  Madra extended her paw to pet the pooch--and Mitzi snapped at it.  "What a little darling," Madra smiled, baring her fangs.
Filming did go smoothly, but both Madra and Mitzi were relieved when it was over.  Madra made her token appearance at the premiere.  And the next morning...
Benny phoned in a state of joy.  "Mitzi's a HUGE hit!!  The studio's planning a SERIES!  Isn't that great?"
Madra sat staring straight ahead, visualizing her future.  And all that she said was, "Woof."
Ad blocker interference detected!
Wikia is a free-to-use site that makes money from advertising. We have a modified experience for viewers using ad blockers

Wikia is not accessible if you've made further modifications. Remove the custom ad blocker rule(s) and the page will load as expected.