Mandarin Mood is an outfit worn by Gene Marshall.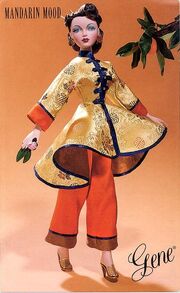 SKU: 93543
Released: 1997
Retired: 1999
Circa: 1946
Designer: Tim Kennedy
Company: Ashton Drake
Price: $34.95
Story Card
Edit
As any Hollywood actress knows, the more talented and beloved you are, the more hectic your schedule becomes!  It's a crazy, non-stop, whirlwind adventure...and you adore it!
Because of her demanding schedule, Gene cherishes the time spent with her friends all the more.  Gene's dinner party tonight has an exotic Chinese theme.  She hired a well-known caterer to prepare the menu of Peking duck, lo mein, fried rice, and poo-poo platters.  Gazing around her home, Gene is thrilled at the authentic decorations of hand-painted silk screens and paper lanterns, and with the Chinese musicians playing the hsio, ti, chi'in, and the lute-like p'i-p'a.
Tantalizing aromas fill the room, and Gene smiles, anticipating plenty of laughter as she and her friends struggle to master chopsticks!  The pool is ready for dragon boat races, and each guest will take home their name written in Chinese calligraphy.  Gene's blue eyes sparkle as she suddenly realizes that though she enjoys Chinese food, it can't beat her mom's Yankee pot roast!
The entire catering staff bows in homage to Gene's beauty as she makes her appearance in a Mandarin-style figured silk jacket and pants with golden sandals.  Her hair is wound into a sleek, shining knot, and affixed with chopsticks.  Dangling from her ears is a gift from the caterer: a lovely pair of golden Mandarin coin earrings, sure to give good luck to his favorite movie star customer!