Midnight Angel is an outfit from the film Love's Ghost.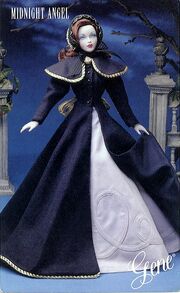 SKU: 94674
Released: 1998
Retired: 2001
Circa: 1946
Designer: Nicole Burke
Company: Ashton Drake
Price: $39.95
Story Card
Edit
Love's Ghost was released in 1946 to record crowds and rave reviews.  Gene is the star in this gothic love story about a governess haunted by a romantic ghost in a dark English mansion on the Yorkshire moors.
When the lovely governess arrives at the gloomy mansion, she is chilled at her uncanny resemblance to a haunting portrait of a former daughter of the mansion who had disappeared on the moors one night.  She begins to be haunted by dreams of the tragic girl's flight onto the moors in the midst of a violent storm.  What is she running from--or to?  And how is the governess' young ward tied into this mystery?  Past and present are woven into a tale of love lost and found again.  Is the governess merely dreaming, or is she re-living a previous life?  What are the boundaries of life and love?
In the film's climax, set again on the moors in a terrible storm, the governess is saved by a spectral will-o'-the-wisp, eerily beckoning her.  She follows the mysterious glow as the loving ghost--with his phantom lantern--lures her safely out of the moors.  The two-hanky tearjerker ending brings the timeless lovers together, proving that love is eternal.
Love's Ghost held much meaning for post-war audiences, many of whom were dealing with their own losses.  A tale of love everlasting was a comforting assurance to a sadder and wiser America.