Midnight Blossoms is an outfit worn by Madra Lord.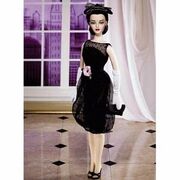 SKU: 76170
Released: 2002
Edition: 1000
Circa: 1957
Designer: Vince Nowell
Company: Ashton Drake
Price: $125.00
Story Card
Edit
"Darling!" Madra was gushing into the phone between takes on her latest picture. "You know I'd be there earlier for our little tete-à-tete if I could, but we're simply SWAMPED here. We just keep shooting this scene over and over and over...Well, it's the WRITER'S fault! I just CAN'T seem to remember this one trivial little line of dialogue, and he INSISTS that it's crucial to the plot...I know, some people are just SO petty. But I'll be there by midnight, I promise. Just look for the TIRED but energetic star with the flower at her waist...!"
Finally, at about 8:00 that night, Madra nailed the line; the writer was happy; the crew was exhausted—and Madra was ready for her date! She hurried home, drew a bubblebath and laid out her fashionable attire: a lovely black dress with a dotted overlay and a white flower at the waist. Or maybe a red flower. Pink...?
As she lay in her bath, Madra kept trying to remember what color HIS favorite was. What was it, what was it...?
Stepping out of the tub and daintily patting herself dry, her mind was a kaleidoscope of colors. The gown was beautiful no matter which decoration she chose, so she picked...
As the clock struck midnight, Madra swept through the door of the little club—and into the arms of her date. She held him at arms' length so that he could get a good look at her gown, as she smiled coyly and cooed, "Like it? I picked it out JUST for you!"
Ad blocker interference detected!
Wikia is a free-to-use site that makes money from advertising. We have a modified experience for viewers using ad blockers

Wikia is not accessible if you've made further modifications. Remove the custom ad blocker rule(s) and the page will load as expected.