Midnight Gamble is a retailer's exclusive.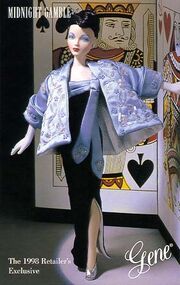 SKU: 94666
Released: 1998
Circa: 1953
Designer: Doug James
Company: Ashton Drake
Price: $99.95
Story Card
Edit
Paris in 1953...what an exciting time!  Art, music, literature, architecture, and especially fashion are flowering with a new renaissance as France gloriously rises from the ashes of war.  The restoration of Versailles has begun, a new President and Premier are in office, and Gene Marshall is the toast of Parisian society, a favorite of both the cultural intelligentsia and the general public.  Every morning people avidly read which glittering ball, fashion show, or elite salon she attended the night before, gossiping over what she wore, the witty things she said, and every elegant, graceful move she made.
One morning the paper treated its readers to a photograph of Gene exiting through the unique revolving face card doors of the famous Le Rouge et le Noir casino club.  Gene and her date had earlier attended a private exhibit of the innovative art of painter Jacques Zolí, then went to the casino near midnight.  Gene had never gambled before, so her escort recommended the roulette wheel.  "Faites vos jeux," called the croupier, and Gene placed several chips on number seventeen black--her birthday.  "Rien ne va plus," the croupier called to end the betting, then spun the wheel in a dizzying kaleidoscope of red and black, the silver ball spinning, tripping, then clacking musically into...seventeen black!  Gene threw her arms up with surprised excitement, her sumptuous Prussian blue silk jacket flying out like the wings of an exotic butterfly.  Even Lady Luck is a big fan of the so-beautiful American cinema star, Gene!