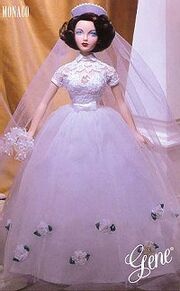 Monaco is a Gene doll depicting a wedding gown worn by Gene Marshall in the film Monaco.
SKU: 96403
Released: 1995
Retired: 1997
Circa: 1950
Designer: Timothy Alberts
Company: Ashton Drake
Price: $69.95
Story Card
Edit
The fairy-tale comes true for Gene Marshall in Monaco, her newest film for Monolithic Studios.  She plays a girl of common birth who wins the heart of her nation's handsome prince.  Her wedding scene is the dreamiest on film yet...but we can't say more!  Our guess?  A host of filmstruck 1950 brides will be trying their best to duplicate this look for themselves.'
Monaco is a fabulous bridal ensemble, much imitated in its time.  The gown has a bodice of lace over satin with collar, cuffs, and bowed belt of satin.  The skirt is a confection of layered tulle with hand-fashioned ribbon roses and a separate tie-on net slip.  With "pearl"-trimmed headpiece and veil, bridal bouquet, matching shoes, seamed hose, and jewelry.  Circa 1950.
Every era has its own Cinderella story...and every actress wants to play the part!  When it comes to you, you must seem born to the role of an everyday girl who wins her handsome prince with beauty, unassuming charm, and sincere love.
Gene does seem born to the role, in the film called Monaco.  In the climactic wedding scene, she plays a lovely peasant girl who rises to untold wealth when she marries her adoring prince.  This film, made in the early 1950s, would prove to be prophetic...for just a few years later, Grace Kelly would wed her very own Prince Rainier...in Monaco!
In this coveted movie role, Gene is a dark-haired beauty, wearing an airy "bubble-cut" hairstyle that softens the sleek lines of her magnificent wedding ensemble...for years to come, brides everywhere would emulate this sleek, chic bridal style.