Mood Indigo
shows
Violet Waters
getting off of a plane.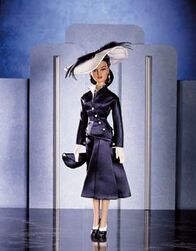 SKU: 76710
Released: 2002
Edition: 3000
Circa: 1948
Designer: José Ferrand
Company: Ashton-Drake
Retail: $99.95
Violet doll with brown hair. Styled with center parted victory rolls in front, braid-wrapped low chignon in back. Maroon lips, purple and gold eyeshadow.
Navy satin day suit. jacket has white lined collar with asymettrical placket, A-line skirt has asymettrical pleasts diagonal across the front.
Accessories
Edit
White satin portrait hat with feather trim, white "lace" mesh gloves, navy satin half-circle clutch handbag with white trim.
Navy and white spectator pumps.
"Pearl" teardrop necklace and earrings.
Story Card
Edit
1948.  "Are you sitting down?"  Violet's agent sounded as if he was going to burst.
"By the sound of your voice, I'd better be!" Violet laughed into the receiver.
Her agent went on.  "I've just been asked to ask you if you'd appear at the Old Port Jazz Festival."
Violet sat down.
"Everybody who's anybody will be there: Louis, Ella, Joe, Dizzy, Sarah, Dinal, Stan, the Duke, the Count, and all the other royalty.  And here's the cheese spread on the cracker: they're recording it for a two SP set."
By now, Violet was trembling with excitement.  "Oh, you told them right away that I'd do it, I hope!  Heck, I'll even fold up the chairs afterwards, if they'd like..."
"No need for that, doll--because you ARE a hot commodity in the jazz world.  So get those pipes shipshape and I'll mail you your ticket.  Look good for the photographers when you get off the plane--'cause there'll be plenty."
Soon the big day arrived.  As Violet and the others stepped off the plane in Old Port, there was indeed a plethora of reporters and photographers, in addition to a crowd of jazz aficionados.  As she joined the group of her fellow artists for pictures, Violet suddenly felt an arm go around her shoulders.  Looking to her left, she realized the arm was attached to one of the great ladies of jazz, a woman Violet had admired for years.  And at that moment, Violet knew that she belonged.
Ad blocker interference detected!
Wikia is a free-to-use site that makes money from advertising. We have a modified experience for viewers using ad blockers

Wikia is not accessible if you've made further modifications. Remove the custom ad blocker rule(s) and the page will load as expected.