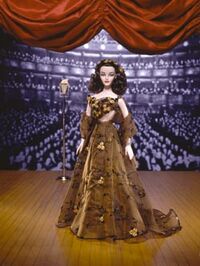 Moulin Noir
shows
Madra Lord
performing at a nightclub.
SKU: 76770
Released: 2002
Edition: 2002
Circa: 1949
Designer:
Company: Ashton-Drake
Retail: $149.99
Madra doll with dark brown, side-parted hair. Styled in shoulder-length curls. Red lips.
???
Accessories
Edit
???
???
???
Description
Edit
-
Story Card
Edit
1949. Armed with a few necessary French phrases (Bonjour! Au revoir! Oui! Non! Merci! and Où est Cartier?), Madra Lord hit the City of Lights with a passion for Paris, from la Tour Eiffel to les Champs Elysées to le Chateau de Versailles to la Rive Gauche...
On one particular night, a brightly-lit nightspot boasted a special celebrity guest in their scandalous show--famous film star Madra Lord. Riding on a silver chair carried by four musclemen, Madra belted out a specially-written song, "Paris Stole My Heart," to the delight of the clientele.
Afterwards, at the party celebrating Madra's triumph, a handsome young man, smoothly Continental in dress and appearance, sidled up to Madra and handed her a champagne flute. But when he started to speak, a slight quaver in his voice revealed his excitement at being next to his favorite star.
"Ah, Mlle. Lord," he sighed. "Vous etes très beau!"
"Beg pardon?" Madra turned and, pleased with what she saw, began to move this flirtation forward. "My French is a little, well...How do you say--non-existent."
Her sudden (and flattering) attention gave the gentleman renewed confidence. "I saw you are most lovely." He blushed slightly.
Madra put on a demure look. "I'd LOVE to talk with you more, cheri, but I mustn't keep the rest of my fans waiting--however, if you'll stay RIGHT by my side, I'm sure we can do a little more translating of our own later on. Com-predn-ez-vous?"
Ad blocker interference detected!
Wikia is a free-to-use site that makes money from advertising. We have a modified experience for viewers using ad blockers

Wikia is not accessible if you've made further modifications. Remove the custom ad blocker rule(s) and the page will load as expected.