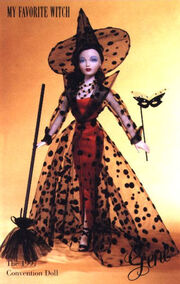 My Favorite Witch
shows
Gene
in the film
My Favorite Witch
. 1997 Masquerade convention doll.
SKU: 93549
Released: 1997
Edition: 350, National Gene Convention
Circa: 1952
Designer: Tim Kennedy
Company: Ashton Drake
Price: Part of convention package
Story Card
Edit
- Hollywood and Halloween...both carry a spell of glamour, magic, and delightful enchantment. So it's no wonder audiences adored "My Favorite Witch" the lighthearted comedy hit that premiered in the fall of 1952. As Alexis Devlin, white witch and proprietor of Salem flower shop, Gene brings a charming, other world quality to the role. "Alexis" gives Cupid a little help by sprinkling rose bouquets with a love potion. Her good intentions go awry when a delivery mix-up causes her own staid fiancé to fall madly in love with a shy, plain-faced spinster. Desperate to reverse the spell, Gene enlists the aid of a handsome, though infuriatingly teasing warlock, who has secretly loved her for a thousand years. Their lively sparring of wits and witchery sparkled on the silver screen, much to the audience's delight. At the film's climax, Gene goes "disguised" to a Halloween masquerade ball in a bewitching witch's costume - a pumpkin orange sleeveless sheath with an overdress and witches hat of black polka dot tulle. She carries her broom and a black mask with "diamond" cats' eyes. Just as she starts to cast the reversal spell, Gene sees how happy the spinster and her ex-finance are together -- and realizes she wasn't the girl for him. Instead, she finds she has lost her heart to rascally warlock! The warlock flies her into the starry sky and proposes to Gene at the stroke of midnight for a magical Hollywood ending!