My Sunday Chapeau is an outfit worn by Violet Waters to church.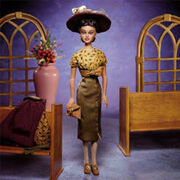 SKU: 76740
Released: 2002
Edition: 2002
Circa: 1958
Designer:
Company: Ashton Drake
Price:
Story Card
Edit
1958. All you could see was a sea of hats.
As Violet looked out over the congregation at her old church, she smiled. She remembered all the Sundays as a little girl, sitting with the choir, gazing out at all the pretty women in their Sunday best. How she had longed to be one of the lucky ladies bedecked in style and sitting in the front pew.
Now, here she was, back again in church, showing off her "hattitude" with a hat...no, not a hat, a chapeau brought back from her last trip to France.
She turned around and sat down next to her father as the church organ (lovingly played by her grandmother, as it had been since Violet was a little girl in the children's choir) rang out with the first hymn, and the congregation raised its collective voices in song. And when the reverend spoke, all the ladies in the congregation nodded, causing the sea of hats to swell and dip: feathers and flowers, lace and ribbon, fruit and finery.
As Violet left the church, the reverend was standing at the door. As she passed, he firmly clasped her hand. "Violet! How we've missed you!" he smiled. "But we're all so elated that you've had such good fortune in your life. And what a lovely hat. Very becoming...."
"...becoming to the little girl from the choir who's now become a lady," thought Violet--and she smiled secretly to herself as she slipped her arm through her father's and walked to the car, her head held high.
Ad blocker interference detected!
Wikia is a free-to-use site that makes money from advertising. We have a modified experience for viewers using ad blockers

Wikia is not accessible if you've made further modifications. Remove the custom ad blocker rule(s) and the page will load as expected.