Neat as a Pin
shows
Trent Osborn
in a pinstripe suit.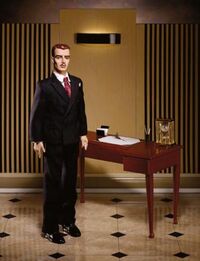 SKU: 76680
Released: 2002
Edition: 3000
Designer:
Company: Ashton-Drake
Retail:
Trent doll with medium red painted hair and moustache.
Black pinstripe business suit, white dress shirt, red power tie.
Black dress shoes.
Description
Edit
Here, Trent extols the virtues of The Pinstripe Suit, even recounting one hilarious Hollywood highlight. Trent has red hair in this one.
Story Card
Edit
-
Ad blocker interference detected!
Wikia is a free-to-use site that makes money from advertising. We have a modified experience for viewers using ad blockers

Wikia is not accessible if you've made further modifications. Remove the custom ad blocker rule(s) and the page will load as expected.