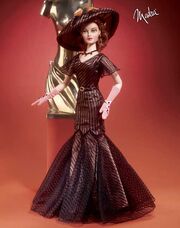 Night Memories shows Madra Lord in the film of the same name.  This doll came with "scrapbook pages".
SKU: 03-39410-003
Released: 2004
Edition:
Circa: 1937
Designer: José Ferrand
Company: Ashton Drake
Price:
Story Card
Edit
1937.  "Benny, Benny, BENNY!!  Is it true?"
Benny, Madra's agent, smiled as he took her by the shoulders and held her at arm's length.  "Yep, little girl," he said.  "YOU are playing the lead in the newest opus from Monolithic Studios: Night Memories."
"So what's the story?"  Madra's eager face fairly glowed with anticipation.
"Well, it's an actress' dream.  You play a girl who comes to the Big City to visit her mother.  Instead of finding her mother in a fancy mansion, it turns out Ma's working as a hoochy-coochy dancer in a mob club.  Appalled, you run to talk to the owner--only to walk in on a mob killing.  You're the only witness.  You fall into a deep psychosomatic coma, and when you wake, you discover you're the star witness."
"But..." Madra said, but Benny pressed on.
"Problem is, you've blocked all details of the dirty deed, EXCEPT when you're asleep and dreaming.  So you've got crime, handsome doctors, handsome lawyers, handsome crooks, dance numbers, dream sequences, beautiful clothes--in fact, here's a costume sketch of a little number you wear when you witness the murder: sheer black with a picture hat and great gloves..."
"BENNY!" shouted Madra.  "When I said 'what's the STORY?' I didn't mean the PLOT--I meant what's the story on my billing, my salary, my dressing room..."
And Benny's eyes rolled upward, knowing that this was his lot for years to come...
Ad blocker interference detected!
Wikia is a free-to-use site that makes money from advertising. We have a modified experience for viewers using ad blockers

Wikia is not accessible if you've made further modifications. Remove the custom ad blocker rule(s) and the page will load as expected.