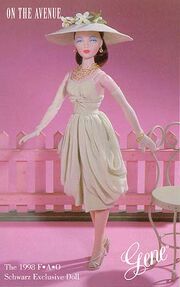 On the Avenue
was an FAO Schwarz exclusive from 1998.
SKU: 94668
Released: 1998
Edition: FAO Schwarz
Circa: 1955
Designer: Tim Kennedy
Company: Ashton Drake
Price: $90.00
Story Card
Edit
Gene Marshall surprised the chauffeur by hopping out of the limousine without waiting for him to open the door.  But it was such a beautiful day in the Big City, she didn't want to waste a minute!  People bustled along Fifth Avenue, the brilliant sunshine putting a smile on everyone's face.  Sunlight sparkled on the enormous shop windows, inviting passersby to admire the newest fashions available inside.  Heads turned as Gene passed, people wondering, "Wasn't that Gene Marshall, the movie star?"  Even though the wide brim of her flower-sprigged picture hat shaded her lovely face, a few people recognized her right off and begged for an autograph.  Gene was only too happy to oblige, and further thrilled them by chatting a bit before politely excusing herself and going on her way.
She stopped to gaze with girlish delight at the marvels grandly displayed in the windows of the famous toy store.  Gene remembered a darling letter she just received from a six-year-old girl, asking so sweetly for an autograph.  On a sudden impulse, Gene dashed into the store to buy a toy to send to her littlest fan along with an autographed photo.  Later, Gene, with her new escort--a big stuffed bunny--, arrived at the Plaza amid a dazzle of popping flashbulbs.  She was just in time for the publicity photo op at a fancy ice cream social, her original destination before the sunshine and excitement of Fifth Avenue enticed her to slip away for a carefree hour with herself and her dear fans.