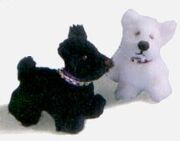 Gene's dogs Dottie and Dashiell come with gold leashes and jeweled collars.
SKU: 93547
Released: 1997
Retired: 2001
Designer: Etta Foran
Company: Ashton Drake
Price: $29.95
Story Card
Edit
It's a dog's life! But in Hollywood, it's a life everyone would love to share.
Gene's two biggest fans don't care at all that she's a sensation from coast to coast. Her beloved dogs Dottie and Dashiell love her just the way she is! They love it when Gene clips the leashes onto their jewelled collars for a stroll along the immaculately landscaped avenues of Beverly Hills. Dashiell, a Scotch terrier like the Roosevelt's family pet Fala, trots along at a brisk pace, his black curls gleaming with health. Dottie, a white West Highland terrier, fairly bounces with excitement. They meet their friends along the way: Fritz the dachshund, Amour the French poodle, Shi-Shi the Peke, and Ivan the Afghan hound--completely uninterested that their owners are stars, movie moguls, or even royalty!
Gene's pets are the darling of every movie set, spoiled outrageously by everyone from producers to interns. They even receive fan mail from other dogs (written by their owners of course). Dashiell's gentlemanly demeanor and Dottie's unfailing cheerfulness makes them a welcome sight at the Green Parrot, Gene's favorite restaurant. The dogs have to wait in the cloak room, but between the hat check girl cooing over them and a juicy Delmonico steak, Dashiell and Dottie are as happy as dogs can be. To Gene, they are her anchor, her loyal confidants, and cherished friends rolled into two delightful bundles of energy!
Ad blocker interference detected!
Wikia is a free-to-use site that makes money from advertising. We have a modified experience for viewers using ad blockers

Wikia is not accessible if you've made further modifications. Remove the custom ad blocker rule(s) and the page will load as expected.