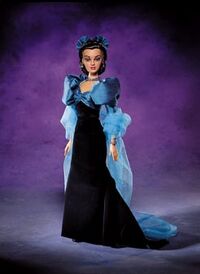 Out of the Blue
shows
Violet Waters
in the film
Manhattan Escapade
.
SKU: 92165
Released: 2002
Edition: 3750
Circa: 1944
Designer: ???
Company: Ashton-Drake
Retail:
Violet doll with brown hair. Swept back from face in braided chignon with twisted "crown." Red lips, purple with gold eyeshadow.
Black "velvet" gown with teal "silk" bodice, sleeves and train.
Accessories
Edit
Teal beaded tulle stole, teal "silk" hair combs and black hosiery.
Black "leather" pumps.
Teal and silver beaded drop earrings, bracelet and choker.
Description
Edit
Violet does a specialty number in the middle of a film. She enchants the crowd with her rendition of "Out of the Blue (and Into Your Arms)". Violet is a dream in this blue gown with velvet trim.
Story Card
Edit
1944.  The El Maraca set in the film Manhattan Escapade practically filled an entire studio.  It was one of the most extensive sets ever constructed at Monolithic Studios, authentic right down to the running water in the faucets behind the bar.  There was such attention to detail, in fact, that Monolithic building crews joked that if the picture tanked, they could just throw open the doors and go into the nightclub business without a pause and recoup the loss.
Monolithic Studios had been at somewhat of a loss as to how to present their "discovery", Miss Violet Waters, into their mainstream films--and the nightclub setting of Manhattan Escapade provided the perfect vehicle for Violet's debut.
As the white-dinner-jacketed emcee took the staff, a hush fell over the El Maraca revelers.  "...And now, for your sheer enjoyment, Violet Waters and her rendition of 'Out of the Blue (and Into Your Arms)'!"
And as the curtains parted, Violet sang her heart out--and into the hearts of audiences lucky enough to see the full version of Manhattan Escapade.  Starting with only a pinspot on her face and the tremolo of a clarinet, Violet proceeded to convey emotions through simple gestures and the subtle bending of a note--and film historians to this day use this scene as an example of the perfect blend of color, lighting, camera movement, and talent to create an indelible, incredible mood.
Ad blocker interference detected!
Wikia is a free-to-use site that makes money from advertising. We have a modified experience for viewers using ad blockers

Wikia is not accessible if you've made further modifications. Remove the custom ad blocker rule(s) and the page will load as expected.