Pas de Deux
is a
Gene Marshall
doll dressed to attend the ballet.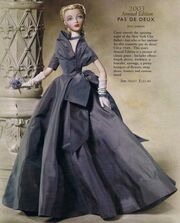 SKU: 76037
Released: 2003
Edition: annual 1000
Circa: 1948
Designer: José Ferrand
Company: Ashton-Drake
Retail: $125.00
Silver Edition
Edit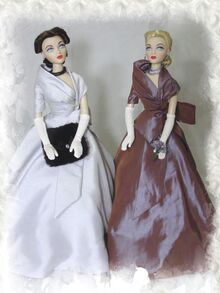 (exclusive to Modern Doll Collectors convention)
SKU: 37328
Released: 2003
Edition: 150
Circa: 1948
Designer: José Ferrand
Company: Ashton-Drake
Retail:
Gene doll with light blonde hair. Styled with center part in rolls in front, low chignon in back. Red lips, pink eyeshadow.
Purple-grey evening gown with asymmetrical wrap color and bow.
Accessories
Edit
White elbow-length gloves, bouquet, hosiery.
Pruple-grey strap heels.
Blue beaded earrings, necklace and bracelet.
Description
Edit
Gene attend the opening night of the New York City Ballet-- but who is her partner for this romatic pas de deux? Circa 1948. This year's Annual Edition is a picture of classic grace. Includes elbow-length gloves, neckace, bracelet, earrings, a pretty bouquet of flowers, strap shoes, hosiery and custom stand.
Story Card
Edit
Society was all agog--the New York Ballet was about to debut!  Dance aficionados from around the world had gathered to witness the opening night program: Serenades, Orpheus, and Symphony in C--all choreographed by the incomparable George Balanchine.
No one was more excited than Gene Marshall.  As a little girl in Cos Cob, she had teetered for a while between becoming a famous actress or becoming a prima ballerina.  Both professions were perfect outlets for her artistic talents--but, even though she spent many a year practicing at the barre, Thespis won out over Terpsichore and the world was blessed with her acting gift.
But the path she had taken didn't mean that she still wasn't allowed the tingle of anticipation as she stepped from the back of the limousine onto the sidewalk in front of New York City Center, home to the new company.  Unconsciously, she found herself pointing her toe behind her with each step she took.  Embarrassed, she looked around, then broke out in a little giggle when she realized her skirt was covering up her frivolity.
Suddenly, someone took her elbow.  She looked up--and there he was!  She felt the eyes of the crowd turn to them as she and her escort stepped through the doors, handing their invitation to the head usher.  And she knew that tongues would be wagging as fast as a ballerina's feet during an entrechat when the identity of her date hit the columns!
Ad blocker interference detected!
Wikia is a free-to-use site that makes money from advertising. We have a modified experience for viewers using ad blockers

Wikia is not accessible if you've made further modifications. Remove the custom ad blocker rule(s) and the page will load as expected.