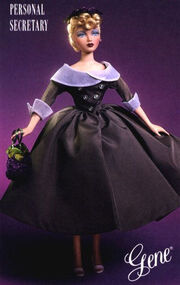 Personal Secretary
is an outfit worn by
Gene Marshall
in the film
Personal Secretary
.
SKU: 93542
Released: 1997
Retired: 2001
Circa: 1957
Designer: Tim Kennedy
Price: $34.95
Story Card
Edit
As an established Hollywood star, you know a good comic role is a real jewel to add to your career.  Playing comedy is a true test of an actress' skill, timing, and wit...and besides, it's wonderful to know you'll send your fans out of the theater with light hearts and smiles on their faces, feeling good about life.
For Gene, it's the film called Personal Secretary that lets her shine again as a talented comedienne.  She plays a cool, capable "girl Friday" for her handsome-but-harried boss, an advertising agency executive.
Capturing the real spirit of the working girl's world in the 1950s, Gene conveys efficiency, competence, and loyalty all through her boss' crazy antics, and manages to save the day time and time again.  But will he ever discover that she's a real woman inside?  In the last twenty minutes of the film, her boss finally sees through the cool veneer into Gene's warm heart...and is amazed to learn that he has new and tender feelings for this woman who has stood by his side through thick and thin.
In this special role, Gene wears a pert career ensemble...
It's no wonder so many working women identify with Gene's portrayal, and take her dream-come-true to heart as their very own.