Picnic in the Country is an outfit worn by Gene on a picnic.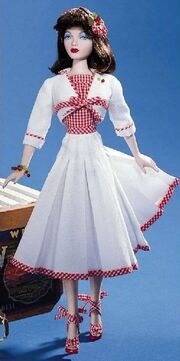 SKU: 76077
Released: 1999
Retired: 2000
Circa: 1946
Designer: Lynne Day
Company: Ashton Drake
Price: $39.95
Story Card
Edit
It was a perfect, sunny afternoon when Gene and her best friend escaped the hectic pace of Hollywood and drove out into the picturesque California countryside.  Gene tooled her sporty blue convertible roadster along the winding, hilly curves, relishing the warm July breeze in her hair.  The long grasses coating the rolling hills gleamed like silk, providing a lush bounty for a herd of red-coated longhorn cattle.  The tangy perfume of citrus filled the air as they drove past miles of lemon, lime, and orange orchards.
Gene and her girlfriend had no destination in mind...just a carefree drive, plenty of laughter, and a chance to catch up on the news of each other's busy lives.  But when they spotted a small farmstand nestled in the cool, inviting shade of two peach trees, they couldn't resist stopping for some fresh, homegrown fruit.  The farmstand was a faded wooden shack, but every possible nook was brimming with ripe, succulent fruit, wax-sealed mason jars of homemade preserves, dripping honeycomb, garden-fresh vegetables, and colorful bunches of dried wildflowers and fragrant herbs.  They oohed over the delicious array and struck up a lively conversation with the cheery farmer's wife while picking out home-backed bread, jam, peaches, and dark red cherries for an impromptu picnic in the country.  As they drove off with a wave, the delighted farmwoman immediately began work on a new sign: "MacKenzie's Fresh Farmstand...Gene Marshall's Favorite Picnic Store!"