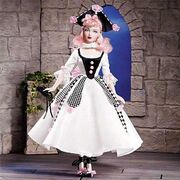 Pierrette
shows
Gene Marshall
in the film
Lover in Disguise
.
SKU: 38255
Released: 2001
Edition: 5000
Circa: 1946
Designer: Lynne Day
Company: Ashton Drake
Price: $99.95
Story Card
Edit
It was a romantic classic, a Cinderella story for modern times.
It was Gene's film Lover in Disguise--and even though there was no glass slipper to try on, Gene got her Prince Charming in the last reel (played by everyone's favorite leading man, Trent Osborn).
In Lover in Disguise, Gene stars as a hardworking shopgirl at a dress shop run by a society woman (Madra Lord at her haughtiest).
The shopgirl becomes enamoured of one of the shop's regular customers, a dashing (and apparently well-to-do) older man.  Even though they're at a distance in social standing, the two click, and just as the shopgirl thinks she has a chance at happiness, into the picture walks her Prince Charming's fiancée--none other than the haughty store owner.
What to do?  Should the shopgirl sit back and let her Prince Charming get away?  Or should she take matters into her own hands?  No time to wait for a fairy godmother--knowing that man of her dreams will be attending a charity masquerade ball that evening, she spies a perfect costume in the shop's window display: a pretty Pierrette.
Leaving behind a now naked mannequin, our Pierrette dashes off in disguise to the ball and to the arms of her lover.
Will he recognize her?  Will he admit to his true feelings?  Even though they were sure of the outcome, audiences held their breath as Pierrette made her way down the ballroom stairs.
Ad blocker interference detected!
Wikia is a free-to-use site that makes money from advertising. We have a modified experience for viewers using ad blockers

Wikia is not accessible if you've made further modifications. Remove the custom ad blocker rule(s) and the page will load as expected.