Pin-Up
shows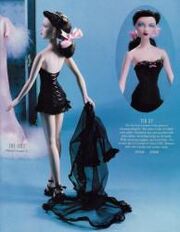 Gene Marshall
in a photoshoot.
SKU: 93507
Released: 1996
Retired: 1999
Circa: 1944
Designer: Tim Kennedy
Company: Ashton Drake
Price: $69.95
Story Card
Edit
After the impact of Gene Marshall's first pin-up for the war effort, Crimson Sun, the G.I.s demanded, "Give us more!" Now Monolithic Studios has done just that with this all new pin-up poster. And it certainly gives the troops a lot more of Miss Marshall! She appears in a sizzling black teddy and matching negligée that should get every G.I.'s immediate attention. We can already hear the wolf whistles from Corregidor to the coast of France!
Pin-up is Gene's "gift" to the troops! Black laced satin teddy is accented with pink ribbon, including ribbon lacing up the back. Complete with matching lace-trimmed negligée and laced heels. No wonder the G.I.s loved it! Circa 1944. Designed by Tim Kennedy for the Gene Marshall Collection. As a film star in the 1940s, like everyone else you are concerned with the country's war effort, and want to do what you can to support the troops stationed overseas in Europe and the Pacific.  Quietly and privately, you contribute generously to the War Bond campaign, and to the Red Cross.  And when your studio sees a way for you to use your star status to boost the morale of the troops, you agree to go along with the plan.
Thus it is that Gene finds herself in front of the cameras in an outfit more daring than any she has yet worn on the screen, posing for a promotional photo to be released by Monolithic Studios to cheer up "the boys" overseas.
Gene is "dynamite" in a strapless black lace teddy and matching see-through negligée.  When she poses with her back to the camera, you can see that the teddy laces up the back with pink ribbon...a small but very sexy detail!
Within weeks this photo has been distributed by the thousands to troops all over the world...and what a stir it causes on all fronts!  When G.I.s are interviewed about Gene in Pin-Up, they call her a "dish", and a "gorgeous dame", and get all dreamy-eyed thinking of their own wives and girlfriends back home.  So it is that Gene's photo becomes the inspiration for thousands of love letters sent back from overseas.