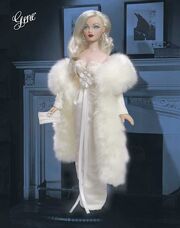 Platinum Dream
shows
Gene Marshall
at a tenth anniversary celebration.
SKU: 03-00023-078
Released: 2005
Edition: 800 annual
Circa: 1951
Designer: Dean LaSasso
Company: Ashton Drake
Price: $189.95
Story Card
Edit
It was 1951.  And it had been ten years since Gene burst upon the Hollywood scene with the intensity of a white-hot comet, blazing through the cinematic sky!
And what a year 1951 has been for America's--the world's--favorite Girl Star.  It started with Gene riding in the New Year's parade on a rose-covered float sponsored by Monolithic to honor her tenth anniversary; her mother presented her with a cameo for her 28th birthday; she went on a safari in Africa while on location for her hit film Daughter of the Nile...
Then, to top it all off, Gene was honored at a special gala recalling her fabulous career.  All of Hollywood has turned out for this event, hosted by Gene's coworker and costar, Madra Lord.  Gene's parents even flew in from Cos Cob, Connecticut, for the occasion.
At the end of a montage of Gene's films to date, the image froze on an iconic shot of Gene, in black and white, lying on a satiny background draped in pearls.  At that moment, Gene, in startling white-on-white with diamond accents, stepped out in front of her larger-than-life self--and the crowd rose in unison, cheering wildly.  Gene, clutching the evening's souvenir program filled with photos of her most famous roles and candid shots of her "backstage life", shyly motioned for them to stop, but the crowd would have none of it.  Finally, the cacophony subsided and Gene, ever gracious, spoke.
"Thank you.  Thank you one and all for allowing this little girl from Connecticut to 'share the dream' with so many of you over the past ten years.  And here's to sharing it many, many more..."
Ad blocker interference detected!
Wikia is a free-to-use site that makes money from advertising. We have a modified experience for viewers using ad blockers

Wikia is not accessible if you've made further modifications. Remove the custom ad blocker rule(s) and the page will load as expected.