Playing the Ponies is an outfit worn by Trent Osborn.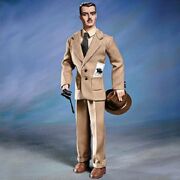 SKU: 38253
Released: 2001
Circa: 1949
Designer: Dolly Cipolla
Company: Ashton Drake
Price: $49.95
Story Card
Edit
Ah, horse racing! The Sport of Kings (and Movie Stars Who Would Be King).
On my days off, I love to come down to the track and sit in the stands, sip a cool drink and try to make my bets from the facts and figures in the racing form. Of course, I never turn down a tip from a tout or a little stable gossip from a jockey when it comes to making my final choices.
I do love the horses, however. I guess I have ever since I was a boy and followed old Dobbin around the streets of Philadelphia as he pulled the ice wagon. Not that I'd ever want to own a stableful like Bing or anything like that. I do enjoy playing the occasional chukker with Errol and the boys out on the polo grounds. But all in all, there's something so right about going to the track. That strange combination of relaxation blended in with total excitement that so many of us have grown to adore.
Plus, I always bring along my binoculars to get a better glimpse of the action. For example, take a look at that little filly over there. Flowing chestnut mane, gleaming bright in the sunlight; sleek lines; nice looking legs. A real thoroughbred who...Drat! Here comes her boyfriend—guess I'd better turn my attention (and binoculars) back to the horses...
But then again, who knows? With all these horseshoes around, my luck could easily change!
Ad blocker interference detected!
Wikia is a free-to-use site that makes money from advertising. We have a modified experience for viewers using ad blockers

Wikia is not accessible if you've made further modifications. Remove the custom ad blocker rule(s) and the page will load as expected.