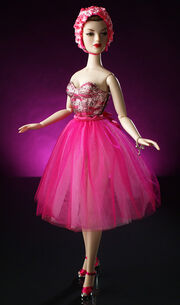 Pool Pose Madra is a basic doll from The Girls of Dream City Convention Collection.
SKU: 92063
Released: 2008
Edition: LE 300
Circa: 1940s
Designer:
Company: Integrity Toys
Price:
In the 1940s, Monolithic's musicals were world famous for not only their melodies and dance but their Technicolor exuberance as well. Moon over Orlando was a brilliantly colored, fast-paced romp about two best girlfriends who leave behind their department store jobs in Orland, Florida, for a weekend of exploring the glamour and bright lights of Miami Beach. Gene Marshall and Ivy Jordan played the two best friends who find romance and excitement during a long weekend of musical mayhem with a hotel bandleader and myopic serviceman on leave.
The songs were first rate and the mood kept light and lively with energetic pacing and sparkling performances from Ivy and Gene. Their colorful and stylish wardrobes, "borrowed" from their department store, were a part of the attraction for the ladies who flocked to Moon over Orlando to see their war-time fantasies enacted by our two actresses.
Perennial favorite Monolithic star Madra Lord good-naturedly made a cameo appearance playing herself in a poolside scene exploiting her reputation in the press for demanding behavior. Beautiful tunes, beautiful people being funny and sweet was the order of the day for this lovely movie created as a distraction from some of the less light-hearted aspects of the era.
Ad blocker interference detected!
Wikia is a free-to-use site that makes money from advertising. We have a modified experience for viewers using ad blockers

Wikia is not accessible if you've made further modifications. Remove the custom ad blocker rule(s) and the page will load as expected.