Poolside is an outfit worn by Gene Marshall in the film Love for Sail.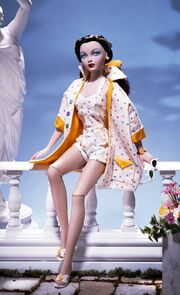 SKU: 76078
Released: 1999
Retired: 2002
Circa: 1954
Designer: Vince Nowell
Company: Ashton Drake
Price: $34.95
Story Card
Edit
"Let's get away from the bluster and cold--because the sun is just out there, waiting for us.  And who knows?  Maybe love is, too!"  And so the three adventurous working girls of Love for Sail pool their funds, leave New York, and head for the French Riviera.
Away from the winter's chill and lounging by the ship's pool, Gene and her chums stretch languidly on their deck chairs.  Suddenly the bright sunshine goes to their heads.  Gene usually the shyest of the trio, leads the way in the giddiness, regaling her chums by doing a little impersonation of the ship's handsome young captain.  Borrowing a waiter's tip-tray to use as a clipboard, she mimics his officious manner: lovely legs bend to copy his seafaring walk, crystal voice takes on his little growl when he's giving the crew orders...
However, her friends suddenly become very somber.  Slowly, Gene's blue eyes widen, her lips pucker in dread, and she slowly glances over her shoulder.  Her new tan goes a bright red.  "Captain Right" has been standing behind her the whole time.  But hearing Gene go overboard about his many "charms" has made him (secretly) determined to win her heart.  A tip of his hat, and he's gone.
Embarrassed, Gene flops back onto her deck chair, throwing her beach coat over her head.  What if he never speaks to her for the rest of the cruise?  He DOES have the most romantic eyes...