Press Conference is an outfit worn by Gene Marshall when her USO tour was announced.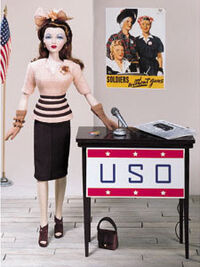 SKU: 76068
Released: 1999
Circa: 1944
Designer: Dolly Cipolla
Company: Ashton Drake
Retail: $49.95
Peach waffle pattern blouse with ribbon-striped peplum, brown crepe reverse pleat skirt.
Accessories
Edit
Brown gloves, flower corsage, green headband hat trimmed with organza ribbons and flowers.
Brown "suede" wrap pumps with button closure.
Bead drop earrings, bead bracelet.
Story Card
Edit
When Monolithic Studios was asked to do their part for the war effort and temporarily release several stars from their contracts to tour with the USO Camp Show, Gene Marshall's name was at the top of the list. People were still singing the catchy tunes from her movie Sea Spree that made Gene's reputation as "Our All-American Girl". And G.I.s were adoring her innocently provocative pin-up that had just been released. The publicity garnered from this tour would be sensational.
But for Gene, publicity was unimportant next to the opportunity to bring a little bit of home to the boys fighting on the front. That's what she told the journalists crammed in the room where Monolithic was holding a press conference to announce the movie stars going overseas on the upcoming USO tour.
Gene stood poised and proud between the USO sign and the American flag. She didn't use notes, but instead spoke directly from the heart, making a heartfelt appeal to the American people to help in the war effort. "We are the soldiers without guns," she said to the rapt audience. "Your contributions, your sacrifices, both large and small, are just as vital to winning this war as the soldiers fighting on the front lines. Do your part, and together we'll bring our boys home victorious." As one, the press corps surged to their feet and cheered. And Gene Marshall's name was proudly added to the growing list of Hollywood stars fighting their fight on the front lines.

Cut of brown crepe and houndstooth tweed, the jacket has the wide shoulders of classic '40s fashion, lavishly trimmed with faux fur. The crepe skirt has inverted pleats. Color flourishes at the suit's neckline, with the bright russet jersey blouse...and matching russet gloves truly help "make" the outfit. Gene's "fur" hat and muff are an unexpected, luxurious gift from the producer (the muff has a secret pocket for her hanky). Her hatbox declares her new "star" name: Gene. But the most touching goodbye gift of all is the teddy bear, Gene's childhood companion, brought to the station by her father to remind Gene forever of her family's love.