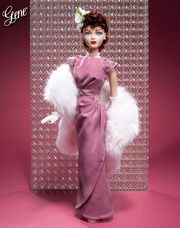 Queen of Hearts
shows
Gene Marshall
in the film
Jack of Diamonds
.
SKU:
Released: 2005
Edition:
Circa: 1946
Designer: José Ferrand
Company: Ashton Drake
Price:
Story Card
Edit
"Every Jack of Diamonds needs a Queen of Hearts--and this time Love is in the cards!"
That was the tagline for the 1946 film Jack of Diamonds.  Jack, of course, was none other than Trent Osborn at his most charming.  And for his Queen--who else but everyone's favorite, Gene Marshall.
As the small town girl who tames a big time gambler, Gene was in her glory.  Not only did she get to play a character who grows from a wide-eyed innocent girl to a confident and loving woman--she even got to sing and dance!
Audiences were in just the right mood for this bright and sassy picture.  And what a picture it was!  In addition to Gene and Trent, Monolithic tapped Violet Waters, Madra Lord, the Bratzenjammer Boys--even an "appearance" by Mayor Fiorello LaGuardia!  The story of a gambler who comes to the aid of a failing boys club and wins the love of a good woman spoke to everyone's hearts.
Gene's big number, "Here's One for the Boys", not only fit right into the picture--but hit the mark with audiences all over the world.
Because of the picture, Gene took an interest in boys and girls clubs and causes around the Hollywood area.  She was drawn to one in particular: the Pediatrics Hospital.  Over the years, Gene became the Pediatrics Hospital's major benefactress--and the beneficent actress put together many a fundraiser and devoted huge amounts of time for this, her favorite cause.
Because, as everyone knew, this Queen of Hearts was aces!
Ad blocker interference detected!
Wikia is a free-to-use site that makes money from advertising. We have a modified experience for viewers using ad blockers

Wikia is not accessible if you've made further modifications. Remove the custom ad blocker rule(s) and the page will load as expected.