Rags to Riches
shows
Gene Marshall
in the film
She'd Rather Dance
.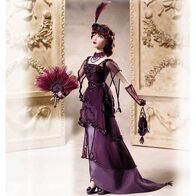 SKU: 76210
Released: 2003
Edition: 2003
Circa: Edwardian via 1948
Designer: Michelle Tibbets
Company: Ashton-Drake
Retail:
Gene doll with auburn hair. Styled with bangs in front, low bun in back. Dark pink lips, pale purple eyeshadow, reddish brown eyebrows.
Purple tulle, chiffon and satin dress with squared neckline and beaded bodice and layered skirt.
Accessories
Edit
Feathered fan, beaded reticule, feathered and beaded bandeau headpiece and fingerless tulle gloves.
Beaded vamp pumps.
Beaded tassel earrings and necklace.
Description
Edit
In the film "She'd Rather Dance" Gene plays her own grandmother in this flashback to the turn of the century. Rags to Riches is a period costume beautifully beaded and accessorized. Perched atop Gene's period hairstyle is a beaded bandeau with purple plumes in the front decorated with beading. Comes with aubergine tulle fingerless gloves purse with beaded handle and tassels earrings, choker, shoes with a bead decoration, hosiery -and a fashionable feather fan with a silver handle and ribbon wrist strap.
Story Card
Edit
1948's "She'd Rather Dance" gave audiences a special treat: two Gene Marshalls for the price of one!
In the film, Gene plays the irreverent daughter of one of Boston's oldest and most influential families who shocks society by accepting a role in a Broadway show.
Nervous and shunned by her stodgy family the night before the Boston opening, the girl (played by Gene) sadly turns to her grandmother for comfort. The grandmother (also played by Gene, using some of the most sophisticated techniques available in Hollywood) quietly closes the parlor door, sits the girl down and says, "Now, child, I am about to let a family skeleton rattle its bones one more time…" With that, she hands the girl her cane and does a spirited catwalk!
The girl gasps, "Grandmama! What are you doing?"
Ad blocker interference detected!
Wikia is a free-to-use site that makes money from advertising. We have a modified experience for viewers using ad blockers

Wikia is not accessible if you've made further modifications. Remove the custom ad blocker rule(s) and the page will load as expected.